Welcome! We're glad you found us!
We know that looking for a new church can be overwhelming, so we'd like to help you by telling you more about what you can expect when visiting our church. Please see the information below and feel free to contact us with any questions!
What Should I Wear: We do not have a set dress code and want you to come as you feel comfortable. You will find a variety of dress from casual pants to suits and ties.
Parking: We have parking in front of and beside our building.
Infants: A nursery is available at all times to provide a safe place for your little ones while you worship and learn with us. If you are more comfortable to keep your child with you, please feel welcome to bring your child along to any of our services and classes.
Children: Children are very important to us at Village Chapel Baptist Church. While sharing the love of Jesus, we also offer a safe and secure environment for them. We have a children's Sunday school at 9:00 AM for grades 1-5 where your children can enjoy an age-appropriate lesson from God's Word.
Teens: We welcome our 6th-12th grade students to join with us in our adult Sunday school and worship services.
Biblical Preaching
The Bible is God's authoritative, sufficient, and inerrant Word, so we believe we must teach and preach every verse and even every word of the Bible. We also believe that we must preach what the original author meant, rather than what we want the Bible to mean.
Because of these convictions, we typically teach through whole books of the Bible rather than jumping from passage to passage or topic to topic. We are better able to understand the author's point when we understand the entire book in context. This is known as expository preaching, and we believe it is vital to the health of believers individually and the church as a whole.
Many of our church's sermons are recorded and available if you wish to listen.
Sermons
Preaching at VCBC is primarily expositional. We seek to give the meaning of a particular biblical passage, and most often are studying passage-by-passage through a particular book of the Bible. All preaching is Christ-centered and gospel-driven, with sermons usually lasting around 35 minutes.
Music
The music we sing at VCBC is a blend of old and new that support our traditional worship style. We enjoy a careful mix of older, doctrinally-rich hymns together with newer hymns and choruses.  We view the music ministry of a church as a God-given means of teaching and admonishing one another.
Worship Service
Our focus is on God-Centered worship. We sing several songs, listen to the reading of Scripture, offer prayer to God, give our offerings to the Lord and sit under the preaching of God's Word.
Detailed Service Information
We have services several times a week and would love to see you at any of our upcoming meetings!
Children's Sunday School | 9:00 am
Our children's class is taught concurrently with the adult Sunday School service. It includes a variety of topics and studies geared for children with the goal of better understanding God's Word and His expectations for their lives.
Adult Sunday School | 9:00 am
Our adult Sunday School class is purposeful but varied in our topics and format. Our purpose of this time is to teach and further equip our people to understand God's Word better and to serve Him and disciples otter's more effectively. Topics vary from in-depth Bible studies of particular passages, to discipleship curriculum and current trending topics of interest related to church ministry.
Sunday Morning Service | 10:00-11:15 am
Our focus is on God-Centered worship. We sing several songs, listen to the reading of Scripture, offer prayer to God, give our offerings to the Lord and sit under the preaching of God's Word.
Sunday Evening Service | 6:00 pm
At 6:00 p.m. we gather as a church for a family time of singing, testimony, and Bible study. We seek to praise the Lord for who He is and what He's doing in our lives. The service concludes around 7:15 p.m. with a hymn and reflection on what we learned from God's Word and each other. People often stay after the service to enjoy talking to each other.
Wednesday Evening Service | 6:30 pm
For members and guests, the majority of our "Prayer Meeting" is just that—a time of various aspects of prayer together. We begin by praising our Lord in singing to prepare our hearts further for prayer. We then divide up into smaller groups for more specific prayer. We often close our time with a brief study in God's Word. Since many come straight from work or dinner, there is a variety of dress from casual to business.
PLEASE NOTE: Our nursery is available during all church services.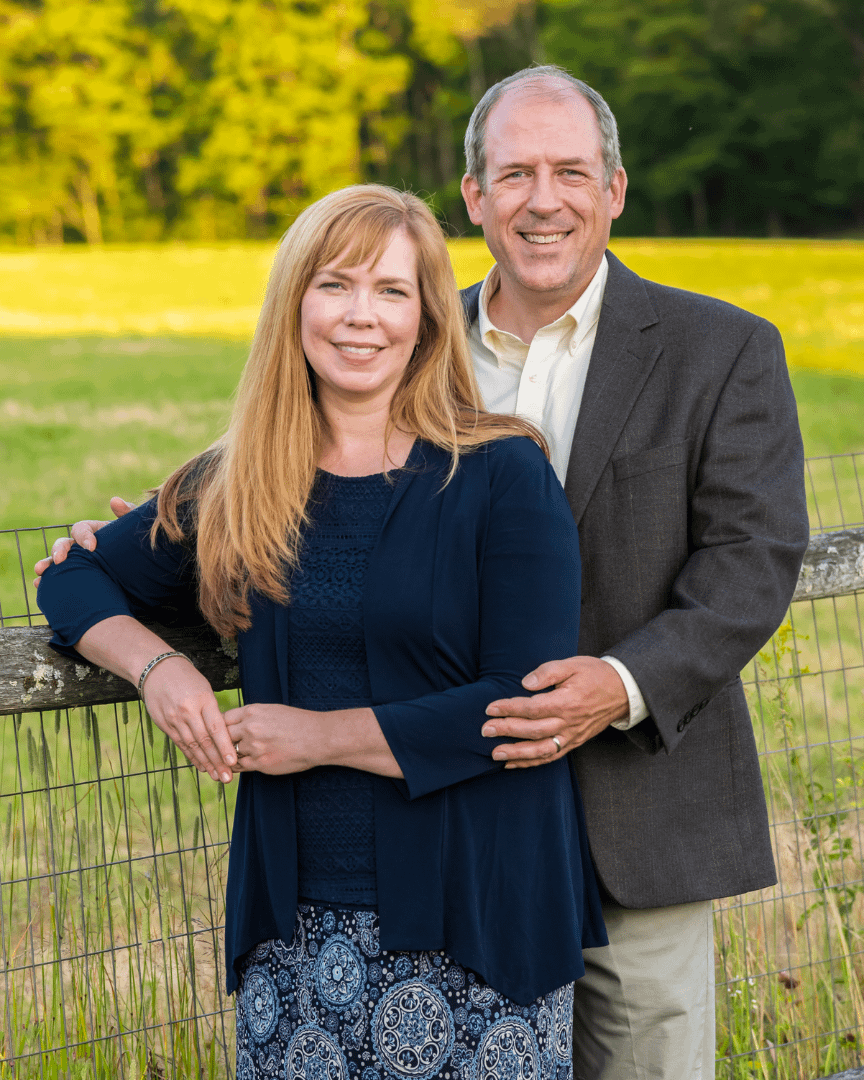 Pastor Brock Mawdesley grew up in Michigan in a Christian home where he accepted Jesus as his Savior as a child. After graduating from college and beginning a career in graphic design, he felt the Lord's call to full time vocational ministry. Pastor Mawdesley pursued further education at Bob Jones University Seminary and graduated in 2006 with an M.A. in Pastoral Studies and a Master of Divinity degree. In 2008, God called the Mawdesleys to Upper Cross Roads Baptist Church in Baldwin, Maryland, where Pastor Mawdesley served as the ministry's youth pastor. In September of 2019, the Mawdesleys once again felt God moving them and Pastor Mawdesley accepted the position of senior pastor at Village Chapel Baptist Church in Weare, New Hampshire.
Using the buttons below, you can either have directions from Google Maps sent straight to your device of choice, or you can visit our contact page to view our map location and more information about us. Either way, we look forward to seeing you!